Data Enabled Enterprise Modeler (DE2M)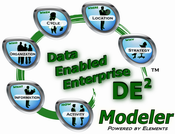 The utility and flexibility of Microsoft Visio, coupled with Oracle's relational database power, enabled by the extensibility of the DE2 Repository make DE2M the ultimate enterprise modeling solution. DE2M is one segment of Pragmatica Innovations DE2 suite of solutions that connect data to decisions based on real-time content.
Explore all the details of this enterprise modeling solution at the product website or view the information sheet: Data Enabled Enterprise Modeler (DE2M) Overview
This unique application leverages the power of data to enable your modelers to connect information to Visio diagram objects for extended clarity that can be used in reports, analysis and a multitude of other applications.
The modeler and supportive suite allows alignment of your organizational products, resources, and processes with goals and strategies to enable compliance management, portfolio management, risk management, capital planning, enterprise architecture and quality improvement initiatives. Through data integration and visual workflows, these collaborative web-enabled, solutions enable organizations to develop comprehensive models with multi-dimensional views.
Analyze data and relationships, including ones brought in from Visio, through the DE2 Repository
Maintain Visio diagrams and underlying metamodel/data in the DE2 Repository
Automatically hyperlink Visio objects to detailed data objects in the DE2 Repository
View navigable SVG versions of your Visio diagrams through DE2 Repository
Analyze and update data and relationships through auto-generated or custom queries
Share and reuse diagrams and data among projects through MS Visio, MS Excel, MS Access or DE2 Repository
Integrate new or existing stencils with auto-generated data in Visio with the DE2 Repository
Easily convert shapes in Visio from one stencil shape to another shape
Define business rules in the DE2 Repository that are enforced through Visio data relationships
Manage configurations of models and data with intuitive markup of the complete audit trail
Manipulate multiple layers and layer data directly in Visio or in the DE2 Repository
Analyze data captured from Visio's 'Track Markup' and 'Comments' features through DE2 Repository
Autodraw diagrams based strictly on data and data relationships
Color or select objects on a Visio Diagrams based on results of queries and searches
Generate reports as DOC, HTML, XML, PDF, XLS, and many popular graphic formats
Please contact our sales department at sales@pragmatica-innovations.com for further information or to schedule a demonstration.